Well, it was a short weekend in Los Angeles. I didn't have enough time to do some of the things I wanted. It was mainly due to being a little sidetracked, but it was still worth it. I got to see some Big Damn Heroes, although I wished I would have seen more Gina Torres. Damn Sunday fog! It delayed my flight by 90 minutes. If I was only an hour late, I would have been OK. Still, my Flanvention memory book is now complete. I also didn't take as many pictures as I usually do. That's due to being in L-A a lot over two years. Well, once the Paley Festival comes around in March, I'll see if I want to spend four days, depending on what shows will be honored, and whether any big-time stars will attend, actor's strike or no actor's strike. With so many shows sinking quickly, I wouldn't be surprised if
Dollhouse
wound up on next year's list only because Joss will be there.
If there is a serious shortage of traditional shows, how about honoring some web series? Like maybbbbeeeeee...
The Guild
? Felicia Day is becoming the unlikely pioneer in this new form of TV, and snagging a couple of sponsors are making a big difference. Just look at the first episode of season two. It looks so much cleaner. Even the theme song gets a boost. Not only that, we get new episodes on a regular basis. The Emmys should consider adding a category for web series. Of course, this may mean Felicia will be challenged by Dr. Horrible, which she's also in. Well, you have to start somewhere.
My second visit to the
Bonnie Hunt Show
was also entertaining, and longer than usual. I did get a chance to see what goes on behind the scenes, like dealing with sound problems and other things. Besides, we got a bonus song from Trace Atkins that won't be shown until next month. He's a big guy with a nice new CD. They also planned out what might happen on Wednesday's show where Bonnie will either interview Kim, the "singer" in the
Real Housewives of Atlanta
, or herself as Kim. Let's hope for the real one because that might be scarier. Shane Mercado, who mimicked Beyonce's Single Ladies video will be back, too. I will definitely try to snag another visit in March, and not just because they serve lunch.
That is the best thing about visiting L-A: if you can't meet a star in the open road or around Rodeo Drive, you can see them in talk shows. I am still hoping someday to meet a big-time star just out of the blue. I did see Brooke Shields film a scene from a TV-movie three years ago in Sacramento, but from a respectable distance.
I did get one surprising bargain: a copy of
Indiana Jones and the Kingdom of the Crystal Skull
for four dollars at a Hollywood Video. Add the Rifftrax "response", and you have a very entertaining evening. Add a Rifftraxed Iron Man, and you have something to do if you're not in the mood for cheesy Christmas movies that are usually ripoffs of A Christmas Carol.
I also got some riffed shorts, too. If you need something to watch on your iPod, get "Why Vandalism", "Drugs are like that", and "Coffeehouse Rendezvous" (basically a short on the worst way to stop protesting against anything in 1968).
All that's left is copying a ton of game shows for my Canadian collection, even if I won't get anything until Canadian postal workers end their strike. At least they timed their strike well, just in time for the holidays.
Now, I had a ball at the Serenity Salute in Burbank last week. Here's some of the pictures I took of Gina Torres, Summer Glau and Adam Baldwin.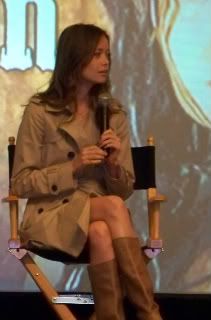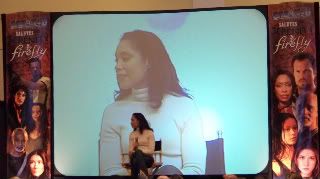 Sadly I missed most of Gina's time because of weather problems. The worst news you could have on a morning flight is that you can't leave because your destination is too foggy. I still got her autograph, finally competing the set. Summer was as she usually is. You get the feeling that being a fan favorite is new to her, even after nearly seven years, but must be great. In fact, I am going to unearth a piece of the Flanvention for a one-time entry on this blog. This will happen Friday. Adam was cool as ever, talking about his current role on
Chuck
as well as "Becoming Jayne" (take that, Anne Hathaway). He even had some trivia questions for the audience.
They'll have another Serenity Salute next year. I may go depending on the economy, although I prefer that Creation Entertainment offer these events in Northern California. The good news is they will next Spring, a couple of weeks after WonderCon. However, it's going to be a convention for
Twilight
fans. As someone who believes nothing compares to Buffy and Angel, I should remember that
Twilight
should be examined on its own merits, Just like
True Blood
is different in many ways.
Still, Buffy and Angel...the real thing! Sorry, Edward and Bella. But maybe we'll see you at WonderCon, too.